Self guided GR 221, all year round (with luggage transportation included)
SOON YOU WILL BE ABLE TO BOOK IT!
Immerse yourself in the incredible route of Pedra en Sec GR 221 and enjoy it on your own, walking along the cobbled paths that connect the different stages, adorned with structures built using the dry stone technique (Pedra en Sec), declared intangible cultural heritage of humanity by the UNESCO.
Along the 120 km long distance route between Andratx and Pollença, the GR 221 captivates you with thousands of kilometers of "marjades" or terraces traditionally used to plant olive trees and crops, nestled in the traditional Mediterranean landscape.
Once the journey begins, the varied contrast of the Pedra en Sec route inmediately reveals itself, the main protagonist is the Serra de Tramuntana splashed against the sea. You will be surprised by the coastal or mountain routes that invite you to discover the highest peaks of the island or the beautiful and remote coves bathed by crystal clear waters, full of local flora and fauna. The beauty of the traditional villages as well as its people, will just make you fall in love with such spectacular long journey.
In 2011, the Serra de Tramuntana, was declared World Heritage Site by UNESCO, so you will have the privilege to enjoy your holidays in a unique environment and with great interest as a Cultural Landscape.
Choose 3, 5 or 8 days of trekking from:
SOON YOU WILL BE ABLE TO BOOK IT!
Minimum 2 people
2 accommodation categories to choose
Difficulty from 2.5 to 3.5/ 5
Departures from Andratx, Valldemossa and Sóller
The highlights of the route GR 221 Pedra en Sec
Wonderful journey of contrasts: sea, mountains and sun
Enjoy the magnificent Serra de Tramuntana, UNESCO world heritage
Surprise yourself with some of the most beautiful villages in Spain
Get excited with the ancient paths and the extraordinary environment with thousands of km of "pedra en sec" terraces
A unique experience to enjoy the full essence of the Mediterranean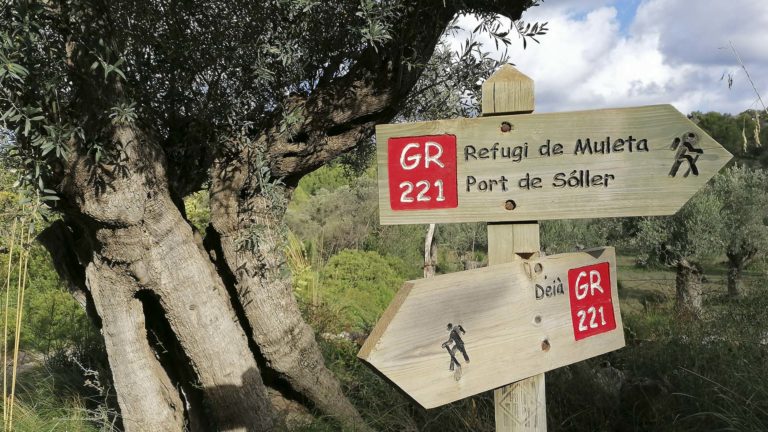 During part of the itinerary, you will find wooden signs marked with GR 221 that will help guide you.
Itinerary of the Dry Stone Route, GR221
We have 4 different available routes so you can choose the best one that adapts to your needs or wishes.
Andratx - Pollença
8 nights
Full trip
Code AGR
Valldemossa - Pollença
5 nights
Central and north route
Code VGR
Sóller - Pollença
3 nights
North route
Code SGR
Valldemossa - Sóller
3 nights
The best of GR 221
Code LMGR
Regardless the route you choose, the first day we will meet in the beautiful town of Sóller for a short briefing, where we will review your itinerary and answer any questions you may still have.
General information of the Dry Stone Route GR221
Accommodation
Choose between two different accommodations categories while enjoying the GR 221: Standard or Premium, carefully selected as close as possible to the route.
The accommodation has  been chosen according to the proximity from the route and their comfort level. Prices are based on a standard double room with private bathroom in the Premium level and shared room and bathroom in the Standard GR221.
· Please note that in the Tossals Verds lodge, there are no private bedrooms or bathrooms available.
· In the villages of Estellencs and Valldemossa both accommodations are in a hotel.
· Check the itineraries, for the daily category of the accommodation.
No need to carry your luggages
Start and end of the route
Included
Not included
More information
Here we show you the average temperatures and number of rainy days in the Serra de Tramuntana throughout the year:
Please note than Dates and Prices will be abailable soon for booking 
THE START DAY IS FIXED TO A SPECIFIC DAY 
Based on where you want to start your hiking (check general information).
ABAILABLE ALL YEAR ROUND
Spring and autumn are the best season for hiking in the GR 221.
GR 221 STANDARD
Prices per person with shared room and bathroom, except in Estellencs and Valldemossa where you sleep in double or triple room with private bathroom.
Breakfast included everyday, except in Esporlas. In the Tossals Verds refuge (lodge) and Son Amer refuge (lodge) only half day board available.
GR 221 PREMIUM
Prices per person in double or triple room with private bathroom, except in Tossals Verds lodge where the room is shared. 
Breakfast included everyday. In the Tossals Verds lodge and in the Lluc Sanctuary only half day board available.
SEASONS
Prices vary according to the season: 
1) Low season from 1st of November to 28th of February
2) High season from 1st of March to 31st of October
SINGLE ROOM
Single room available with supplement just in GR 221 Premium
OFFERS
There is an special offer for groups from 6 people.
AGR code (From Andratx to Pollença, nights x 8)
VGR code (From Valldemossa to Pollença, nights x 5)
SGR code (From Sóller to Pollença, nights x 3)
LMGR code, the highlights of GR221 (From Valldemossa to Cuber reservoir, nights x 3)
If you are still not sure, check here for further detail for all 4 available itineraries!
AGR 8 nights - From Andratx to Pollença
VGR 5 nights - From Valldemossa to Pollença
SGR 3 nights - From Sóller to Pollença
Every wednesday from Sóller
LMGR 3 nights - From Valldemossa to Cúber reservoir
In case you wanted to discover more information of the Serra de Tramuntana and the GR 221, please follow this link