Menorca, biosphere reserve self-guided on foot
Menorca is the second largest island of the Balearics and it is located in the northeast of Mallorca. It was classified in 1993 as a biosphere reserve by UNESCO. Not so well known, it has managed to stay away from mass tourism, preserving its magnificent wild coast. There are no mountains, but many small coves with dream beaches along its coast.
Romans, Muslims, Catalans and even English and French. A rich history featured by the people who marked the history of the Mediterranean. With no doubt, the real star of Menorca is prehistory. Scattered throughout the island's landscape, there are lots of megalithic monuments. They amaze the traveler due to their imposing size and the mystery they reveal. The Talayotic culture (between 1500 BC and the arrival of the Romans) has made Menorca a huge prehistoric park, compared, for example, to neighboring Sardinia.
From September 2022
Available from March to October
Minimum 2 people
The highlights of the Menorca trip
Magnificent journey along coastal paths that link hidden coves with turquoise waters
Spectacular landscapes on the Cami de Cavalls, Biosphere reserve
Enjoy the quietness of its villages and the people
The inheritage in form of archeological heritage spread all around the island
A huge opportunity to discover the Mediterranean in the widest sense of the word
The network of trails that are part of the Camí de Cavalls is marked with the international code GR223 with indicators made of wooden signs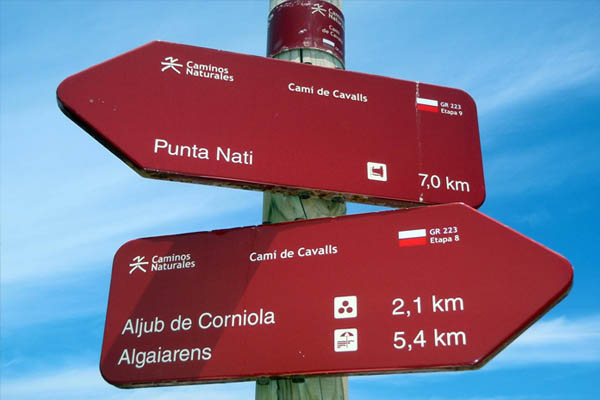 Itineray 7 nighs - Camí de Cavalls
Accomodation
Included
Not included
Accomodation
Hostal Port de Fornells ** double room with private bathroom.
7 nights in the hotel ** located in the enchanted Fornells bay, in the village of Ses Salines at 28Km from the airport. The hotel has an open air pool and all the rooms have a balcony. The hotel offers bike rental service and free WiFi in the public areas. The beach of Cala Tirant is just at 2 km from the hotel and the beautiful promenade is at 15 minutes on foot. There are no rooms with double bed.
Included
Not included
Our package includes a delicious breakfast every morning.
There is a supermarket available just at two streets away from the hotel to buy the picnic for the day.
At night, you have a wide selection of restaurants in the area to enjoy the rich local gastronomy and in the hotel itself they serve dinner as well
Here we show you the average temperatures and rainy days in the Island of Menorca:

Dates and prices valid from september 2022 to december 2023
From march to october you can choose the dates you prefer. During the summer season, the sooner you make the reservation, the better for you as you will have more available dates to choose.
Prices per person
The prices vary according to the dates you book
We have special offers for groups larger than 6 people